US CODE || CFR || CASES || CONGRESSIONAL RECORD || BILLS || FEDERAL REGISTER
Life is short, and Art long; the crisis fleeting; experience perilous, and decision difficult.
Chances are, a government death panel is not going to make end of life
decisions for you. Making your own end of life decisions before you are incapacitated eases the burden
on loved ones and health care providers alike. Advance directives are simple living wills and
powers of attorney, but your plan might also include hospice care, wills, trusts, gifts, reverse mortgages, burial arrangements, viatical settlements and the like.
---
U.S. Code
---
Code of Federal Regulations
---
Cases
---
Reports
---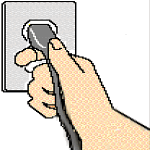 Health Hippo ©1996-present